The Dan River Company, located just down River from Singletree, offers professional rental and shuttle services for kayaking & canoeing on the Dan River. The Preserve-Park Run, goes through over five miles of The HammerStern Wilderness Preserve – the expansive preserve on which Singletree is located. You may rent the canoes and kayaks, or bring your own boats.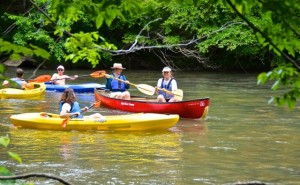 The Dan River Company's rental service, also known as trips, includes canoes and kayaks, personal floatation devices (life jackets), and paddles. The trips also include transportation from the Dan River Company to the river accesses.
Beginner kayak and canoe instruction is offered for both individuals and groups.
Rental Service
9:00am to 1:00pm
shuttles depart on the hour
*check in is 1/2 hour before shuttle departs
For people who have their own boats, the Dan River Company offers shuttle sevices to any of the trip locations. Prices are listed on the Dan River Company's website. Contact information is below for more information on the shuttle service or to make a reservation.
1110 Flinchum Road
Danbury, NC. 27016
336-593-BOAT (2628)
info@danrivercompany.com – Reservations are made by phone only
Categories
Lodge Inn Mountain Cabin Hunting Area Retreat Center
Hours
Monday 8:00am - 5:00pm
Tuesday 8:00am - 5:00pm
Wednesday 8:00am - 5:00pm
Thursday 8:00am - 5:00pm
Friday 8:00am - 5:00pm

Singletree Gun & Plough
1215 Single Tree Rd
Westfield
,
NC
27053
(336) 593-2155