Carolina Ziplines Canopy Tour is located only a few short minutes from Singletree. Each tour lasts approximately 2-3 hours and will get your adrenaline pumping. You will get a bird's eye view over the forest and widlife below during each tour.
Carolina Ziplines has a tour appropriate for ages 3 through 103. There are over a mile and a half of cables totaling 22 plus lines. New lines are constantly being added.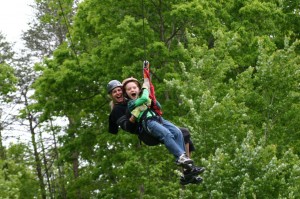 Carolina Ziplines Canopy Tour is a truly unique destination. The 26 acres the zipline tour is situated on was the active farm and homestead of Joshua Cox, the great-grandfather of RJ Reynolds. Joshua Cox was the trainer of the local Patriot Militia Men in the Revolutionary War. There is a headstone for Joshua Cox in the cemetary on the farm.
Please visit the Carolina Ziplines website for more information and rates. Or give them a call using the information below.
Carolina Ziplines Canopy Tour
1085 Nickell Farm Road
Westfield, NC 27053
Phone: (336) 972-7656
Email: carolinaziplines@gmail.com
Categories
Lodge Inn Mountain Cabin Hunting Area Retreat Center
Hours
Monday 8:00am - 5:00pm
Tuesday 8:00am - 5:00pm
Wednesday 8:00am - 5:00pm
Thursday 8:00am - 5:00pm
Friday 8:00am - 5:00pm

Singletree Gun & Plough
1215 Single Tree Rd
Westfield
,
NC
27053
(336) 593-2155